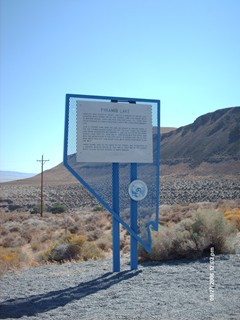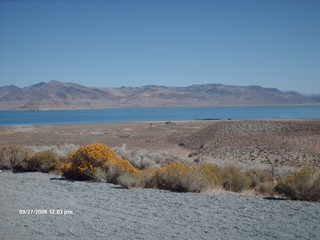 America's most beautiful desert lake is a remnant of ancient Lake Lahontan, which during the Ice Age covered over 8,000 square miles. Caves along its shores have revealed a prehistoric people with a well-developed community life.
John C. Frémont discovered the lake on January 10, 1844, and named it for the pyramid-shaped island it contains. From 1844 to the 1860's, the lake's history is an account of native people in contention with the white invasion of northwestern Nevada. With the Indian victory in the first battle of Pyramid Lake, May 12, 1860, more white men died than in any prior White-Indian engagement in the far west. The Pyramid Lake Reservation was set aside for the Indians in 1859.
The unusual calcium carbonate Tufa formations along the lake shore are formed by algae, by precipitation from hot springs, from concentration during drier periods, and from wave-action shoreline deposits.
The 41-pound world record size cutthroat trout was taken from Pyramid Lake, in 1925, by Johnny Skimmerhorn, a Paiute Indian. The lake is the home of the Cui-ui, a peculiar lakesucker now found nowhere else in the world.
Anaho Island, a national wildlife refuge, is probably the largest white pelican nesting colony in North America.