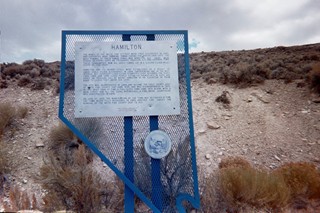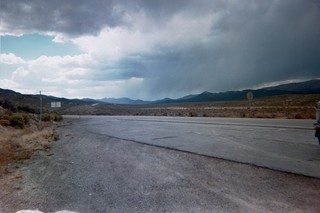 The mines of the White Pine District were first discovered in 1865 and supported many thriving towns during the period 1868-1875. The most famous of these early towns was Hamilton; but there were others adjacent, such as Eberhardt, Treasure City and Sherman Town. These communities, now all ghost towns, lay in a cluster 11 miles south of this point.
Hamilton, and its nearby cities, was established as a result of large-scale silver discoveries in 1868. Experiencing one of the most intense, but shortest lived, silver stampedes ever recorded, the years 1868-1869 saw some 10,000 people establish themselves in huts and caves on Treasure Hill at Mount Hamilton, at an elevation of from 8,000 to 10,500 feet above sea level.
The city was incorporated in 1869, became the first county seat of White Pine County that same year, and was disincorporated in 1875. In this brief span of time, a full-sized town came into bloom with a main street and all the usual businesses. A fine brick courthouse was constructed in 1870.
On June 27, 1873, the main portion of the town was destroyed by fire. The town never fully recovered. In 1885, another fire caused the removal of the White Pine county seat to Ely.