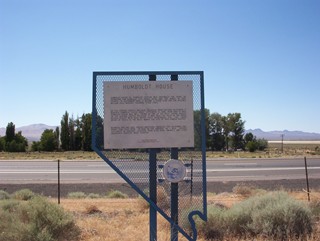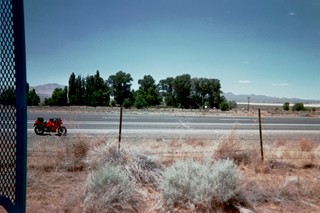 Humboldt House (or Humboldt Station) was originally the point of departure for Humboldt City, Prince Royal and the mines in that vicinity. In September, 1866, it became a stage stop for historic William (Hill) Beachey Railroad Stage Lines.
As the Central Pacific Railroad advanced from eastern California it reached Humboldt House about September 15, 1868. From 1869 to 1900 Humboldt House was well known as one of the best eating houses on the Central Pacific Railroad. It was truly an oasis in the great Nevada desert, with good water, fruit, vegetables, etc. The large grove of trees to the west marks the site of this famous hostelry.
Between 1841 and 1867, 165,000 Americans traveled the California Emigrant Trail past here. In 1850 on the dreaded 40-Mile Desert southwest of present Lovelock, over 9,700 dead animals and 3,000 abandoned vehicles were counted.