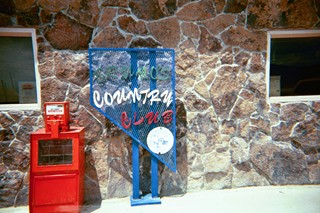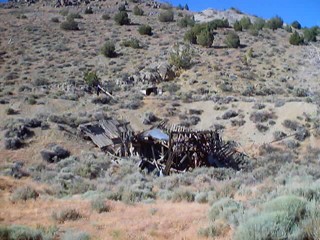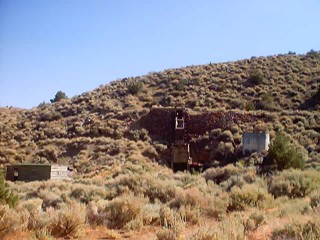 Named for a former teamster-turned-sheepman, Elias Olinghouse, who settled in a quiet canyon at the base of the Pah Rah mountain range to get away from it all. As prospecting activities increased about him, Olinghouse was caught up in the whirl of things, buying several claims and erecting a small stamp mill in 1903 to process ores.
The district was first prospected in 1860; it was not organized, however, until 1899. Shortly thereafter, the region reached its peak of activity, producing $410,000 in gold and silver values between 1898 and 1903.
Both electric and telephone service were installed in 1903, and in 1907 the standard-gauge Nevada Railroad arrived. This short-lived railroad was completed from a junction on the Southern Pacific near Wadsworth to Olinghouse in February of 1907; regular operations ceased on November 1, 1907. Aside from its short life, the Nevada Railroad Company was distinguished by having the first Shay-geared locomotives to be used in Nevada.
Sporadic activity has continued at Olinghouse until the present time. Total production is estimated to have been $520,000.